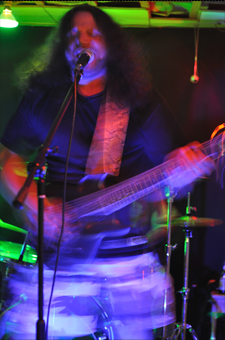 Faris Suqi was born on December 12, 1968 on the north side of Chicago. Though gaining a unique and multicultural perspective through exploring the city's neighborhoods and people, it is music that has been, and continues to be, the most integral part of his development. Growing up with the AM radio and chamber music of his parents, by the mid-1970s he turned the channel and became consumed by rock music. It was Led Zeppelin, Jimi Hendrix, the Rolling Stones, the Who, Bad Company, Grand Funk Railroad, Aerosmith, Rush, and Kiss that opened his world to music and guaranteed that it would never close.
He began studying classical piano at the age of six, and continued for four years, until hearing Van Halen for the first time in 1978 instantly motivating him to master the guitar. He played bass in his first band Steel Rose formed in 1982 with high school friends Jimmy Berg on drums, Mark Figaro and John Ligdas on guitars. Though he only picked up the bass to fulfill a need for the band, doing so has continued to pay back musical dividends to this day.
In 1984, Steel Rose changed their name to Prevailer, an incarnation that featured Faris and Jimmy with a revolving door of musicians. In 1988, after changing their name to Target and releasing a 10-song demo in the summer, the band dissolved.
In the summer of 1989, Faris joined Fred Bojic on drums and Seno Sabovic on vocals and guitar in Invictus, a band that shared the progressive elements of Target, while being rooted more in thrash and traditional heavy metal. After changing their name to Das Krieg and releasing a 3-song demo in the fall of 1989, they gigged heavily, releasing a 10-song album called "Cracked Up" in the summer of 1991.
The summer of 1992 saw Faris part ways with Das Krieg as well as Chicago, relocating to Galena, IL with Jimmy Berg. With Faris on bass and Jimmy on drums, along with Dean Whelman on acoustic guitar and lead vocals, and Rob Martin on trumpet, keyboards,and backup vocals, they formed an acoustic alternative rock band named the Pojamas, recording a 5-song demo in the summer and splitting up in November of the same year. Pining for all that he had loved about the city, and having forgotten all that he did not, Faris moved back to Chicago in the spring of 1993, and co-founded Dead Nugget's Dish, an alternative metal band featuring David Baboorian on drums, Troy Gourley on bass, Michael Matos on vocals, and Faris in his first role as guitarist. The band recorded a 7-song demo named "The Green Guys" in the winter of 1993, followed by their first full-length, "Boutros Boutros Ghali" in 1994. The band gigged heavily from 1994-95, embarking on a tour of the east coast of the country in the fall of 1995. Upon completing the tour, a second album, entitled "Lotushead", was written and ready for recording, but the band lost Faris due to internal conflicts.
In March of 1996, he was supported by Jimmy Berg on drums in recording an unnamed instrumental solo project in the vein of Santana and Satriani which is yet-to-be released. In 1997, Faris returned to the bass and added vocals to his repertoire with Nimbus, a classic rock / country band he co-founded with Sterling Levine on harmonica, and former bandmates David Baboorian on drums and John Ligdas on guitar. Nimbus played a few gigs but never recorded, and dissolved in 1998. Dead Nugget's Dish welcomed Faris back to the band for a final album released in the spring of 1999 before finally splitting up in January 2000.
Aurafist was formed in winter 2001, featuring Mark A. Aguilera on drums and Faris on vocals and all other instruments. After two full-length albums, the band retired the name in 2013. They have spent 2014 writing material for an album they hope to record and release later this year.